Spring Turkey Hunts
April - May, $1,550.00 (2 Hunters per Guide)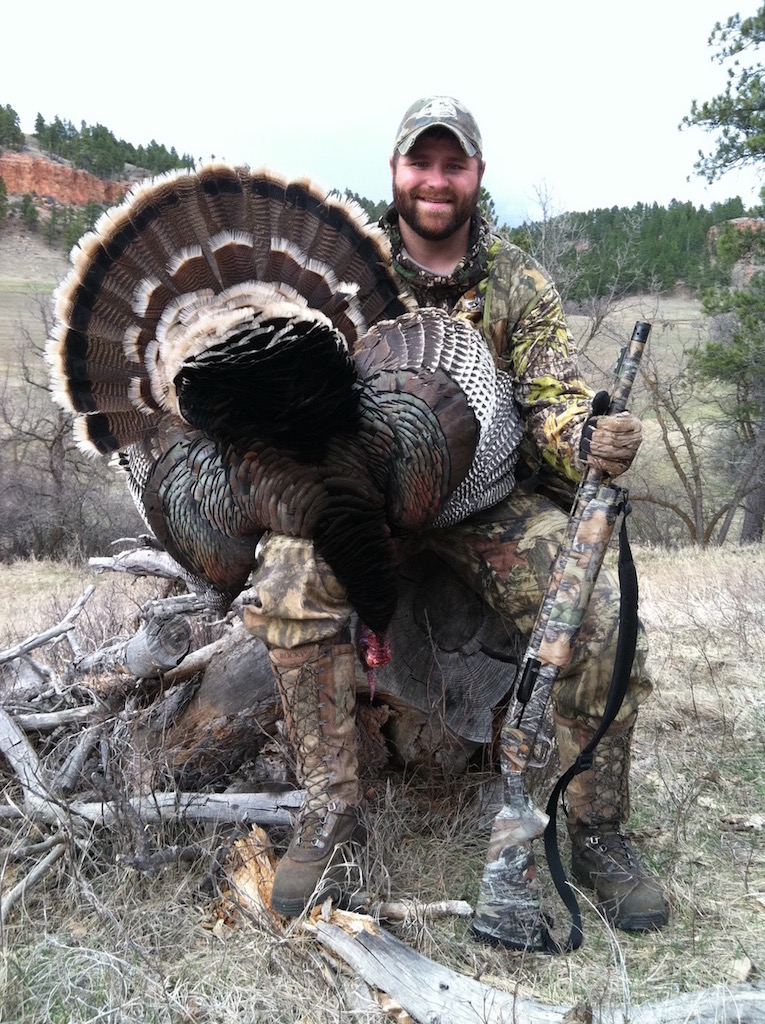 We are pleased to offer quality, fair chase hunts for the big Merriam's Gobblers on our well managed exclusive private land leases in the beautiful Black Hills of North East Wyoming! We accommodate up to six turkey hunters per hunt on our sprawling private ranch leases. Hunts are scheduled during the peak hunting / calling weeks, usually the last 2 weeks of April and the first two weeks of May. Our private ranch properties provide excellent turkey habitat, food sources and hunting terrain. We are fortunate to have a resident population of 250 to 300 birds on our leases, with a high percentage of adult gobblers! As a rule, the gobblers are very workable with well presented calls. But make no mistake about our Merriam's gobblers, they can be a real challenge for even the most seasoned turkey hunter! Success rates generally run 100% on nice adult gobblers, with average weights of around 20 pounds!
Our spring turkey hunters enjoy the deluxe accommodations and meals provide for them at the Diamond L Guest Ranch. A comfortable, modern room with private wash facilities is furnished per every two hunters. Hearty, family style meals are served up hot, before the morning hunt begins. Depending on the hunt activities planned for the day, a sack lunch is available to take into the field, or you may choose to come back to the lodge for a nice hot lunch break. After an exciting day of turkey hunting, you'll enjoy the warmth of a cozy wood stove fire, and a delicious, home-cooked supper! After a great evening meal, play a game of billiards, darts or cards in the lodge's recreation area, or simply kick back, relax and watch a little TV. Or maybe you'll want to go out and roost some more gobblers for the next morning, you choose, it's your turkey hunting vacation!
Since 1979, Rough Country Outfitters and Guides, LLC has provided quality hunts for hundreds and hundreds of satisfied hunters from across the country! We would be pleased to add your name to our long list of happy, successful hunters! After reviewing our literature, please feel free to call anytime to discuss any questions you may have about our services. It would be our sincere pleasure to outfit your next hunt for a big Wyoming gobbler, we look forward to hearing from you soon!